2017 is going to be another exciting year, with the launch of not one, but two new narrowboats for two people. We'll then have seventeen 5-star narrowboats for hire on the Monmouthshire & Brecon canal.
The designs of these latest boats are the result of listening to what our customers want, and taking inspiration both from our own holiday experiences on boats and in hotels, and from the luxury super yachts that our good friend Thys designs.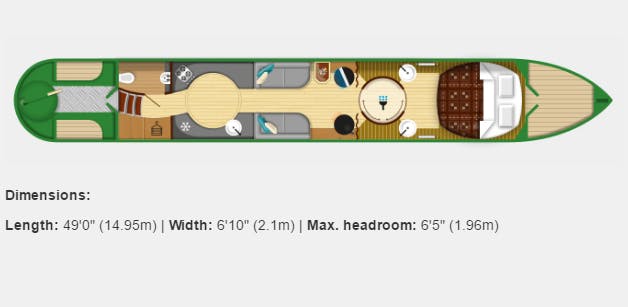 With Wren, our boat building takes another turn. Designed for two, this is a very special canal boat with a pioneering, modern open-plan design. Over the past few months Alasdair has enjoyed visiting our friend Thys in Amsterdam where, over dinner, they have discussed narrowboat design.As Managing Director of Dykstra Naval Architects, Thys Nikkels has considerable experience of designing some of the world's largest super yachts, and is an endless source of inspiration.
In Wren we've used curves creatively and incorporated sleek finishes to give a feeling of being in one large space filled with light - whether preparing food in the high-spec kitchen or relaxing on the sofas in front of the log-effect gas stove. The large walk-through shower is state-of-the-art, and leads to the oval kingsize bed. Beyond that, the windows open onto the front sun deck. Pure indulgence for a couple.

We've known for a while now that the layout of our existing boat Buzzard is extremely popular with customers. Kingfisher is very similar with just a few design tweaks: two comfy armchairs instead of a sofa, a beautiful walnut floor and a white ceiling inspired by our love of yachts. Styled on an Inspection Launch, this semi-wide boat is double glazed throughout and has a 5ft by 6ft 6in double bed. Relax in the lounge, complete with log-effect gas stove, mood lighting and surround sound system. Watch the world go by from the rear deck with its built-in seating, or from the canopied front deck with foldaway side curtains that form a conservatory - the perfect place to dine.
We hope you'll be as excited about these beautiful canal boats, as we are! Take a look at the planned layouts of Wren and Kingfisher now, and come back to this blog for future updates.
Book your boat