Did you know April is National Pet Month? It's a good time to declare that we love dogs, especially our very own Buffy. We also love providing dog-friendly holidays. Visitors tell us that it can sometimes be tricky - finding accommodation that suits everyone including their pets. But here at Beacon Park Boats and Cottages we go out of our way to welcome all sorts. Dogs are regular visitors, and we've even had the occasional cat, a budgie and a parrot! All pets stay completely free (as long as they're with paying guests!) and, most importantly, our cleaning regime is so thorough you'd never know a pet had stayed.
If your dog hasn't tried life afloat yet, you might like to try a short trip on the canal. Our canoes and environmentally-friendly electric day boats can be hired from the end of the canal at Brecon for an hour or more. It's a chance to slow down and see a different view of the Brecon Beacons, with plenty of places for picnics or a pub lunch.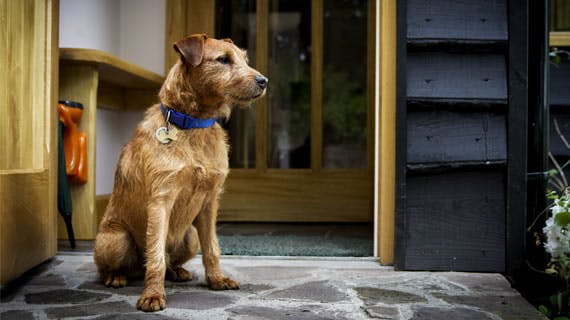 Dogs are also welcome in our two cottages at Llanfoist Wharf, near Abergavenny, as long as they stay in the kitchen and lounge areas which have hard, easy-to-clean floors. It's an amazing spot with the Blorenge mountain right behind for energetic walks and the canal towpath for a leisurely stroll. Both Incline Cottage, our cosy couple's retreat, and Wharfinger's Cottage that sleeps six, have waterside gardens where dogs like to laze in the shade after a hectic day out.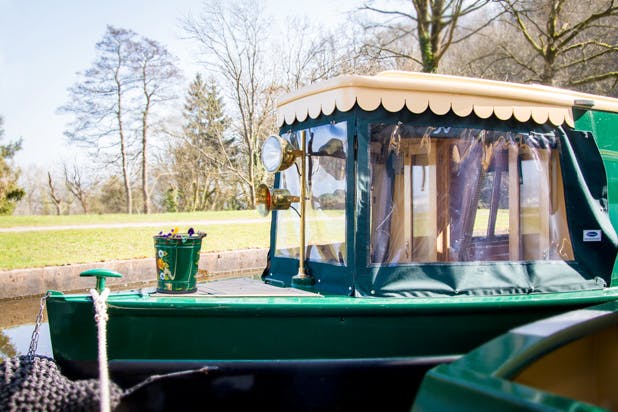 Narrowboat holidays on the Monmouthshire & Brecon Canal are perfect for dogs, with plenty of fresh air and miles of towpath to explore. If you're concerned about your best friend taking up too much space on your boat, choose one of our wide-beam boats (8'6" wide) or consider a boat with a front canopy with roll down sides, which forms an ideal dog kennel.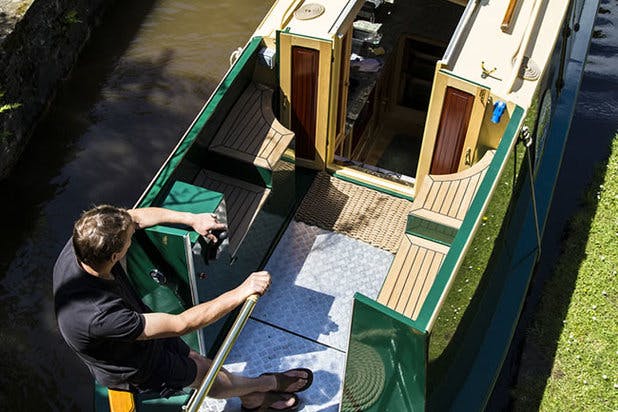 Some customers with dogs like the boats that have a 'semi-trad' rear deck which enables them to have their dog in a contained area where they can keep an eye on them! Whichever boat you chose, we allow up to two dogs for free, and we provide a dog towel for that unexpected swimming lesson.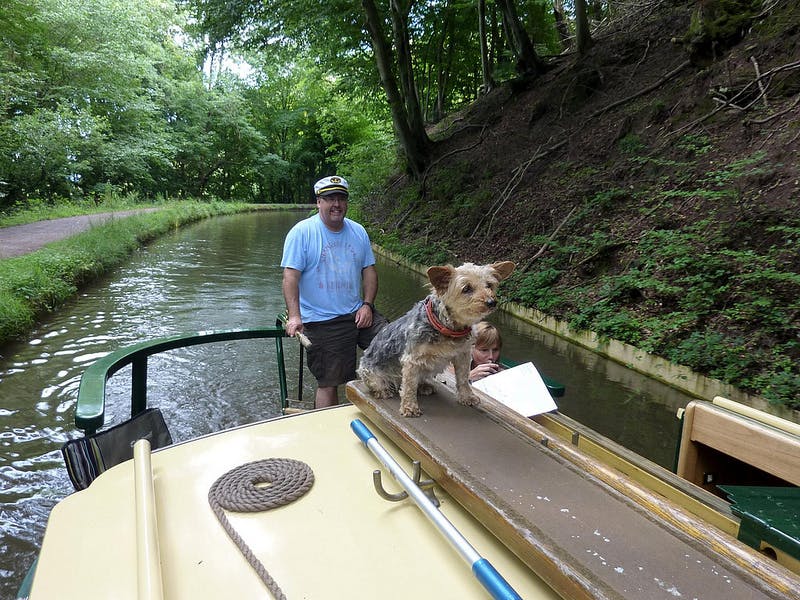 On a boating holiday it's a real pleasure taking the dog for a walk each day, and you get to meet plenty of other friendly dog walkers on the towpath. Since the canal becomes narrow at each bridge, this is an ideal spot to step off the boat with your dog without the need to moor up. Then you, or your children, can walk the dog on the towpath as the narrowboat cruises alongside. There's no need to run to keep up with the narrowboat as it cruises at a mere 2½mph. In fact, the dog walkers will be waiting at the next bridge to step back aboard! And with dog-friendly pubs along the entire waterway, there's no need to leave your best friend behind again when you go on holiday.
Book your boat