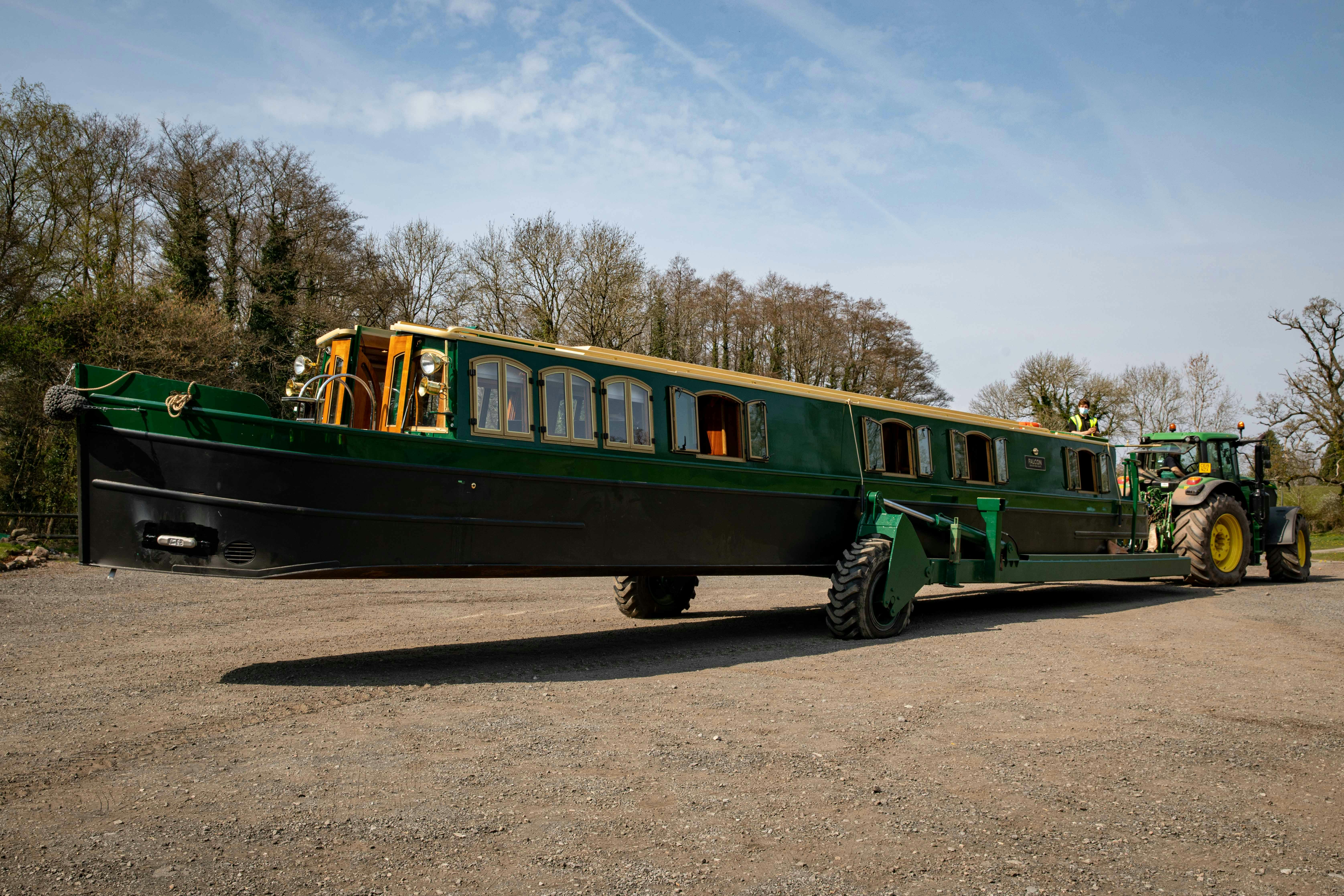 Falcon is our first eight-berth boat and the biggest on the Monmouthshire and Brecon Canal.  She boasts three luxury double cabins and a panoramic lounge at the front with an electronic slide-out bed which converts into a fourth. We've added a demisting feature to these windows, so the wrap-around views of the fantastic scenery are clear to see, even in chiller weather.
She had entered the boathouse over a year ago as a shell, and now, fully fitted out with bespoke joinery, a brand new engine, electrics, kitchen, two showers and 5ft sprung mattresses, she was ready to come out again.  Skylights added to the roof increased her height, and the slope at the back of the boathouse didn't help. "Do you ever wonder about your calculations at a time like this?" Alasdair was asked, "Not at all!" he replied, which a nervous laugh.  But with a combination of a specially made 6-tonne boat trailer, which can raise or lower at the hitch end, we managed to get the bow clear, and out she came.  It took several attempts to navigate the car park and past the corner of the building, but eventually, the 20-tonne boat made it to the water's edge.
It was a proud moment for Beacon Park Boats' owner, Alasdair Kirkpatrick, who toasted the new narrowboat and thanked the staff for all their hard work. And today, Falcon sets off on her first journey to explore the wonders of the Mon and Brec Canal. 
Falcon is 60'11" (18.59m) long and 8'6" (2.6m) wide and has a maximum headroom of 6'3" (1.93m).  She is the perfect vessel for families or larger groups (when restrictions allow) to spend time together.
Book your boat