Schools are going back: book a peaceful parents' day out with Beacon Park Day Boats. 
As the long summer holidays come to an end, it could be the moment for parents or grandparents to breathe a sigh of relief, enjoy the fresh air, a pub lunch and the spectacular scenery of the Brecon Beacons National Park aboard one of our dayboats.
The Monmouthshire and Brecon Canal is regarded by many as one of the most picturesque waterways in the UK. When exploring nature, few places can offer such an experience of beauty and serenity mixed into one. Our electric dayboats, canoes or cycle boat provide many ways to enjoy it.  And with schools going back, it will be quieter now than during the busy summer holidays.
We offer six-seater electric boats, accommodating four adults, two small children, and a dog.  Or our eight-seater boats accommodate up to six adults, two small children and two small dogs.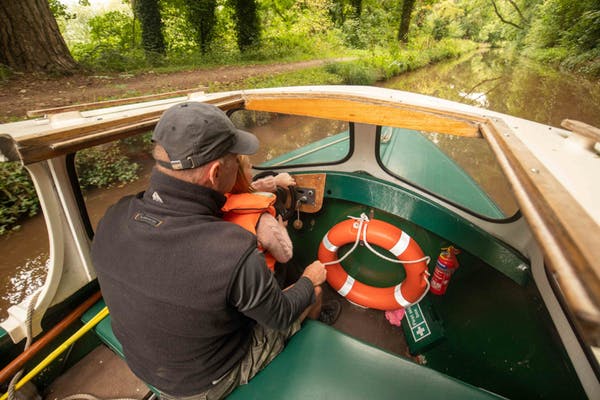 Our boats are all easy to drive, and we will provide a comprehensive health and safety briefing beforehand to ensure you have the best possible experience. In addition, we offer life jackets in a range of sizes for children who remain, non-swimmers and even for your dog.
·   The electric dayboats operate with a simple throttle and steering wheel.  Children are welcome to steer if an adult supervises them.
·   The water is very still, meaning you will have a smooth and safe ride on both our dayboats.
·   If the weather turns inclement, don't worry! All our electric dayboats have rain covers.
Because they are so quiet, our electric boats are a great way to get close to the wildlife which lives on and around the waterway. 
Head North from our boathouse in Llangattock; you can stop and picnic in the beautiful countryside or stop at the Coach and Horses pub at Llangyndir. Head South, enjoy views over Usk Valley and stop at the Towpath Inn at Gilwern. Both serve a great range of food, real ales or even a well-deserved gin and tonic, all in the space of a few hours.  Be quick, and you could get back in time to greet the kids home from school.
If you are looking for gentle exercise, why not try our canoes or our cycle boat made for two? Both offer an entirely eco-friendly experience as they are human-powered, as well as a healthy way to enjoy the stunning views from the canal. 
Both the canoe and the cycle boat are easy to use, making them a brilliant choice for all ages. The canoe is a traditional open canoe with space for two and room for a child. Our cycle boat sits two people pedalling facing each other. Could it be the perfect date?
Book your boat