BBC Countryfile recently visited the Monmouthshire & Brecon Canal in Llangattock, just a stone's throw from our wharf, to report on various aspects of the work being undertaken by the Canal and River Trust (CRT). The programme, which is due to be broadcast on BBC1 on Sunday 27th November 2016 at 6.20pm, features the work to reline the canal at Llangattock. There are interviews with CRT Ecologist Dr Mark Robinson, Mon & Brec Supervisor Kevin Phillips and MEM Fisheries, who carried out a fish rescue in the canal along with Countryfile presenter Helen Skelton.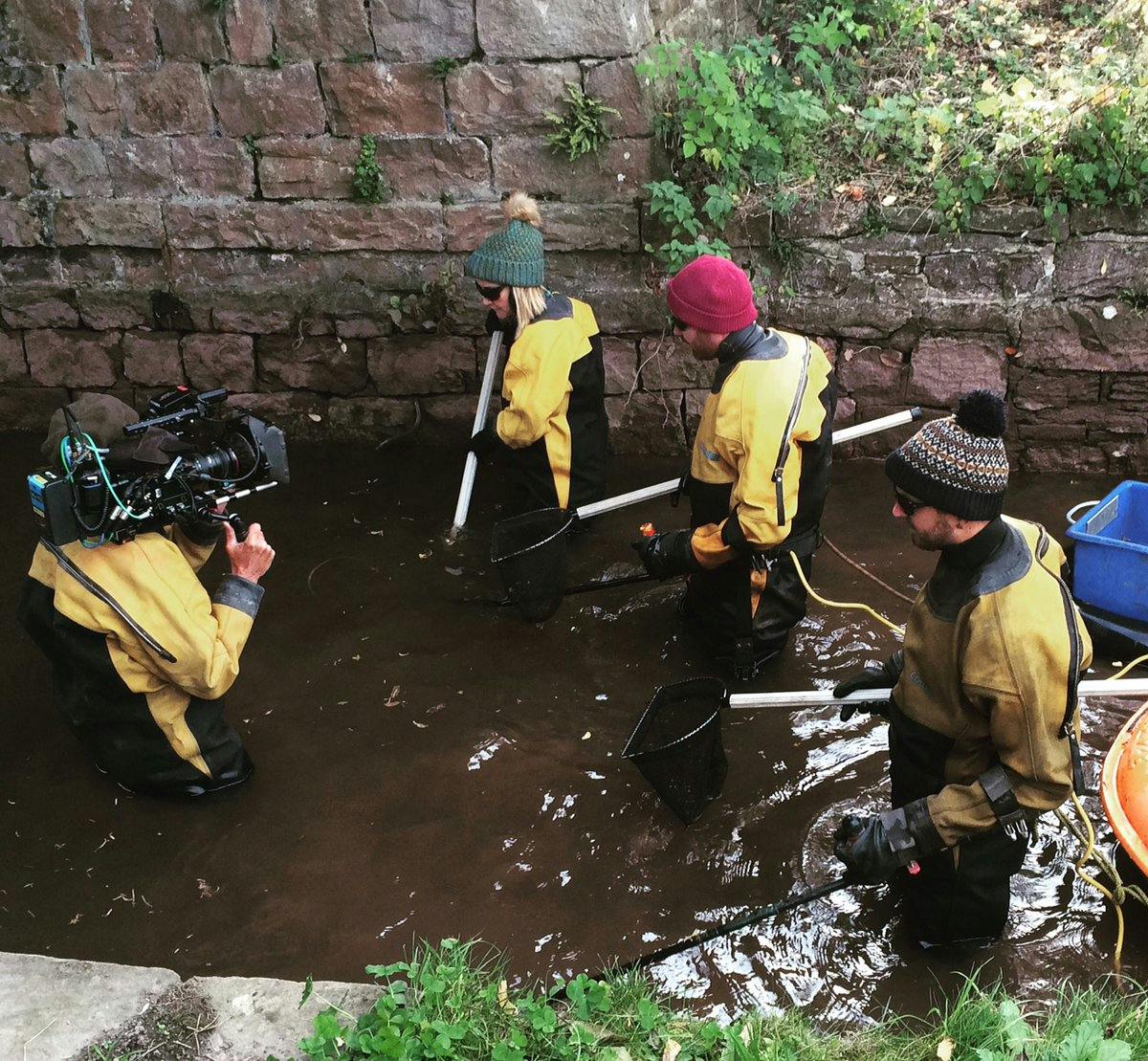 Photo credit: Canal & River Trust
A fish rescue is a way of removing fish from a stretch of water so that it can be drained and/or worked on. A specialist fish rescue team passes an electric current through the water which temporarily stuns the fish causing them to float to the surface. They are then scooped up and put into holding tanks before being returned, unharmed, to another stretch of the canal. In the recent fish rescue at Llangattock, the catch included dace, roach, perch, gudgeon, skimmers and eels. Back in November 2014 we had to arrange a fish rescue at Llangattock, in order to drain the canal as part of the project to build our new wharf.
The television cameras may have gone, but CRT staff are at their busiest with planned winter maintenance. Now that the stretch of canal near Llangattock is drained, work has started on installing a new concrete lining to this section of the waterway.
Over £3million is being spent on major maintenance works on the Mon & Brec this winter, including:
- replacing both sets of gates on Lock 66 and replacing the head gates on Lock 67
- rebuilding a culvert and weir at Goytre Wharf
- repairs to bridge 50 near Pontypool
- repairs to the aqueduct at Talybont-on-Usk
- replacement of the control system on bridge 144, the lift bridge at Talybont-on-Usk
These significant improvements to the Mon & Brec infrastructure will be completed in readiness for visitors to start cruising again at the end of March. Plan your 2017 holiday now.
Book your boat